Amtrak cuts ribbon on La Plata Station upgrades
by Caelan McGeeSunday, November 13th 2022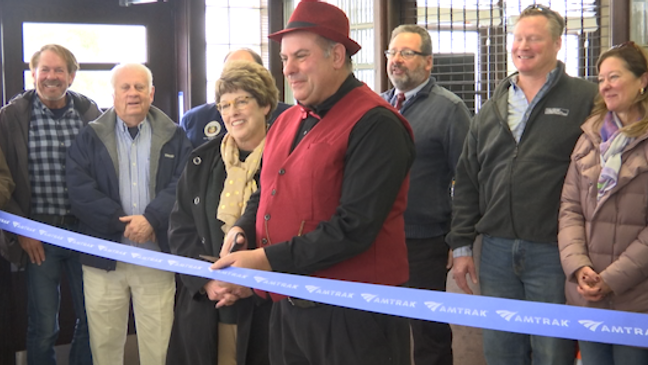 Amtrak cut the ribbon on the project on Saturday officially opening it back up to the public for use. (Caelan McGee/KTVO)
LA PLATA, Mo. -- The La Plata Amtrak station has a rich history, surviving to see 24 different presidents since it was built in 1887.
To help continue its legacy of bringing people to the area by rail, Amtrak invested $6 million into the station to upgrade the facility.
This funding went toward completely renovating the building, helping to almost rebuild it from the ground up.
"We had an ADA project a few years ago that did the interior and the platform upgrades," said Bob Cox, an Amtrak depot caretaker. "And then we recently finished a state-of-good repair project, which gave us new windows, bricks, roof, gutters, siding, basically almost a new building. It's still the original structure underneath, but it's still upgraded for continued Amtrak service here for many years"
Amtrak cut the ribbon on the project on Saturday.
Despite the small size of La Plata, the train station plays a big role in northeast Missouri.
"Before COVID, we served 11,000 people through this station," said Marc Magliari, Amtrak spokesman. "That is 10 times the population of La Plata because people come from far and near to ride the Amtrak trains here in La Plata."
The building upgrades have made the facility easier to access than the previous building, but it did not sacrifice the original charm of the old building.
"Making this more welcoming, fixing the building systems, but not modernizing it," Magliari said. "We wanted to keep the same look people had back in 1945, when the station was last rebuilt, and we're very proud of the work."